Please note: The interactive book below is a preview only, and does not include all 132 pages.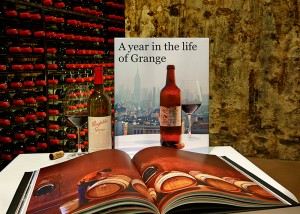 A landmark in Australian wine publishing. Superbly crafted and uncompromisingly presented, this limited-edition collectors' item of original photographs and words lives the story of one of the world's most celebrated wines. Three strictly limited editions are all traditionally hand assembled and bound in fine leather or traditional canvas. All copies are numbered and delivered in a dust jacket and rigid slip-case with accompanying DVD feature of interviews and author's notes.
Interviews include: Peter Gago – Penfolds Chief Winemaker; Justin Willoughby – Penfolds Grower Liaison Officer; Steve Lienert – Penfolds Senior Red Winemaker 2002; Dr Bob DeBellevue MD – Grange collector; Andrew Caillard – Master of Wine (MW) Langtons Fine Wine Principal; Daniel Schwarze – Manager MW Wines Melbourne; Harvey Steiman – Editor at Large, Wine Spectator; *Plus Archival footage of Dr Ray Beckwith OAM (1912 – 2012) – Chief Chemist at Penfolds Wines – retired; Max Schubert (1915 – 1994) – Penfolds Senior Red Wine Maker  1948 – 1975
You can view specific details and images of each edition here.
The Creators
Philip White has been a thirsty writer since the age of five. He is widely regarded as being among Australia's finest and best informed wine writers. Max Schubert became his close friend and mentor.
Milton Wordley has been a professional photographer for more than 40 years and is a fellow and master photographer with the Australian Institute of Professional Photographers. He shoots mostly on location.
John Nowland has more than 35 years' experience in the design industry. He has won numerous Australian awards, while his projects have appeared in major design publications around the world.